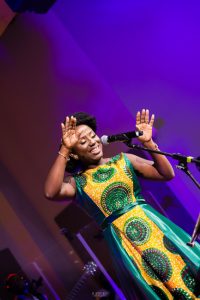 The Ghanaian music industry has seen many complains from upcoming artists when it comes to support, in most cases they are completely ignored by some huge artists they try to approach or they are being tossed until they get fed up and find their own ways to make it work but you can not also blame these big artist because of how some up coming artist become ungrateful and very proud after they are given the chance or become popular.
The most anticipated gospel concert 'The Experience With Diana Hamilton' is giving some upcoming artist the opportunity at this year's edition to also bring to light their creativity and works, the event which will start at 4pm will give the platform to these upcoming artists from exactly 2pm, Diana Hamilton and her team are really making this year's edition a great and special one and must be commended for that.
This is such a thoughtful and good step, we always complain about how bad the industry is but as artists how are you also pushing and helping the industry, the little deeds and opportunities like these goes a long way to help the upcoming artists and the industry at large. If every single big artist were to give such an opportunity things will really move faster but it is just few artists who put these upcomings on their shows. It all starts from somewhere so let us start now after all the outside world would not see it as individually but rather will see it as Ghana Music Industry.
Written By : Pamela Abaah (Mz Pamzy)