Renown Gospel musician Empress Gifty at the lunch of Millennium Promise Alliance Campaign
at the Marriott Hotel Accra Ghana was today appointed as an Ambassador to push a campaign to the
door step of the ordinary Ghanaian.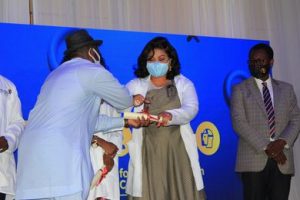 The project which is aimed at soliciting for funds to supply One Million PPEs For Frontline Health Workers across the length and breath of this country was beautifully organized with the support of Ghanaian celebrities from all walks of music genre.
In line with the recognition of the risks encountered by our health professionals, especially our frontline health
professionals in providing care to people living in Ghana, Millennium Promise Alliance (MPA), in collaboration
with the Ghana Health Service and other partners, have thought it prudent and important to pool efforts to mobilize the much needed Personal Protective Equipment PPE to complement government efforts aimed at protecting such health professionals in the discharge of their duties, especially in times of outbreaks such as the Covid19 pandemic the World is currently battling with.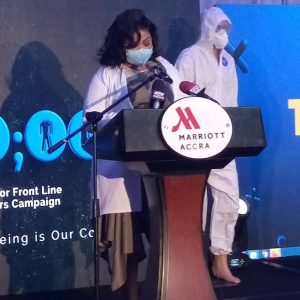 The Covid19 pandemic has revealed that indeed our health human resource at all levels and of all categories need to be protected. Our health workers have placed themselves in the frontline and risked life and limb to protect the health of the rest of the population. Thus, there is the need to protect this category of human resource who in turn will offer their services (and sadly sometimes lives) to protect the health of the rest of the population, just like soldiers on the war front.
New analyses by Amnesty International reveals that at least Seven thousand (7,000) health workers have succumbed to the disease. If care is not taken and the needed measures put in place to optimize our health care system,(including the provision of the needed PPE) any subsequent epidemic and or pandemic could very well overwhelm not only our health system, but the economy and affect our way of life for years to come.
This and many are the reasons, Empress Gifty and some renown musicians accepted to voluntarily campaign to solicit for PPE for our Frontline Health Workers who have dedicated their lives for us. Some of these celebrities who have come on board is the VGMA Artist of year Joe Mettle, Daughters of Glorious Jesus, Cwesi Oteng, Ohemaa Mercy, Abeiku Aggrey Santana, Dr Drew among others.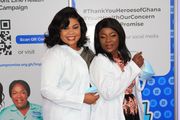 Speaking to Empress Gifty over what motivated her to join this train, she told www.Ghanapubliceye.com that, she had since been on many grounds during the Covid19 lockdown period going round with her Empress Gifty Foundation soliciting help for the vulnerable including some health workers in some communities and that, she found it joy when Millennium Promise Alliance contacted her to join them in this campaign since it was a dream come through. "I could not sleep with my eyes closed ever since I heard the death of the renowned Surgeon to Covid19. If a whole him had fallen in his line of duty risking his life for the ordinary Ghanaian, same thing can happen to most Doctors and Nurses if we do not protect them and give them the necessary things to protect themselves from attracting this disease. Lets not forget that, if you save one health worker, you have saved a nation. I pledge to wholeheartedly do my best in this campaign. And I want to use the opportunity to thank Millennium Promise Alliance for giving me the opportunity to serve my country in this difficult times. All I need from you who is reading is just your One Ghana Cedis or more donation. Lets protect our Frontline health Workers for our own Good" Empress Gifty expressed.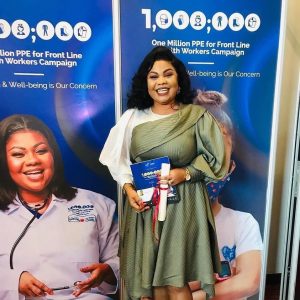 Millennium Promise Alliance Campaign is chaired by Nana Dr. Dankawowo I, the traditional Chief of (Omanhene Kyeame) of Asante Juaben traditional area, and Chief Nathaniel Ebo Nsarko is the Executive Director of Millennium Promise Alliance
Source: Ghanapubliceye.com