The NDC parliamentary candidate for Adenta constituency, Mohammed Adamu Ramadan, has said, if he wins the 2020 parliamentary elections, he will use his MP's car loan to buy a grader instead of a V8.
He says some roads in the constituency are bad and need constant reshaping. So while advocating for the roads to be done, the grader will come in handy to help lesson the burden of residents who live in areas that are yet to get attention to their roads.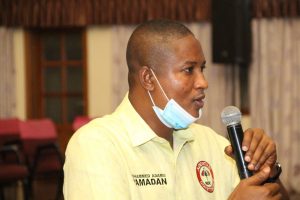 He said he was mindful of where he was making the promise, in a church to be précised and that, he would never fail this promise made on the pulpit of God since that can caused him curses. He went ahead to asked his constituents to hold him to this promise.
Sourc: Manasseh Azure/Ghanapubliceye.com