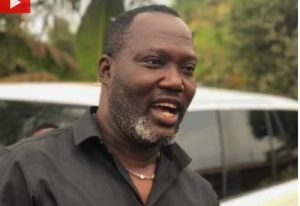 Popular kumawood actor Bernard Nyarko known for his comic relief style and advisory characteristics passes on.
News of his sudden demise was confirmed by musician, radio presenter and DJ, Andy Dosty on an Instagram post on Saturday 2 may 2020.
"Oh Lord, I don't want to believe you're gone. God be with you my friend," an Instagram post by Andy Dosty read Saturday evening.
However causes of his sudden dimes is not known yet as no family relative or close friend has spoken about what caused his death.
The popular actor for sometime now decided to quit acting and became a full time Man of God as he describes the movie industry as evil and promised never to return to it again.
"I have stopped because it's full of evil. Every day, you would meet different people; every day, you would see different girls. All of them want you to become their friends and some of them are coming from the marine sea, they should take their movie," he said.
According to reports, the actor also ditched acting for the gospel after he was hit with an unknown illness.
Below is a video of Pastor Bernard Nyarko describe the movie industry and why he quit
Few months ago Bishop Bernard Nyarko made it clear that he is no more into acting after suffering from a sickness ( he stated that the Kumawood is full of evils ) and hence he's into full time Ministry.

Some of his preaching#KimlykessehOnline pic.twitter.com/8mkcQGBpib

— -KIMLYKESSEHONLINE.COM (@KimlykessehOnli) May 2, 2020
Story By : Alex Ayidan (Skirth Madona)