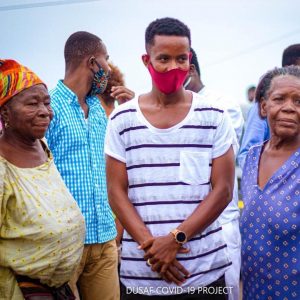 There are many ways to give, whether it's through offering your time or resources. Regardless of the method taken, helping others is beneficial to not just those on the receiving end, but the ones doing the helping as well.
In hard times like this , Ghana needs young strong people to stand and help the country In every little way they can. On Wednesday 22 April 2020, the young man who has been in the news a lot lately for his courage and love for Yvone Nelson takes it up a notch and joins a donation train to help the street survival in these trying times, Richbowy Fred joined Dusaf and Donated food stuff on the streets of Madina, Spintex, Nugua and Teshi and also as part of his own initiative educated people on the street on how to stay protect from covid-19.
The Young Entrepreneur donated items like foods enriched with vitamins c, hand sanitizers etc to help fight the disease in case you are exposed to it.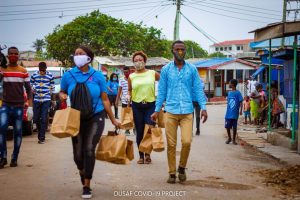 After his donation, he still goes on to help young people in the country with some necessities and continues to educate them and inspire them to stay strong in these times.
Richbowy Fred has indeed proved that at any age and no matter your  wealth you can still help people and make a change in your own small way, he promises to do more and help more young people to become vibrant and amazing people in national development.
Dusaf is a charity organization that takes care of the poor and deprived by inspiring them.
Story By: Alex Ayidan (Skirth Madona)