No wonder the likes of Arnold Asamoah Baidoo and some entertainment critics call him the Messi in Ghana Gospel music industry.
Nana Kwaku Osei popularly known as Nacee has demonstrated beyond every reasonable doubt that he is a force to reckon with as far as music is concern. He is a talent and of cause magical when it comes to writing of music. Nacee, who some weeks backs released a banger that became an instant hit prior to the Christmas season last year and as early as January 2020, the ace Gospel musician is warming up to release another banger from his camp.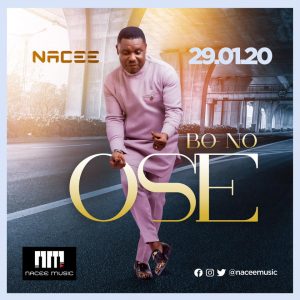 Reading a statement he posted on his wall yesterday, he announced to the world he will be releasing another single tomorrow.
"Bo No Ose will be out on Wednesday 29/01/20… Anticipate… Please tell a friend to tell a friend who should intend tell a friend" Nacee posted.
Pundits who have had the opportunity to listened to the yet to be released track "Bo No Ose" has said, its also an instant hit. Some claim the song is a masterpiece by all standards. In order not to jump before the gun and do any prediction, we will wait and bring to our readers the most talk about single making all the trends on all social media platforms after its released.
Nana Nacee is a Gospel musician, a music producer, a talent manager, promoter and into tv and radio advertisement.
Written By: Eric Odonkor