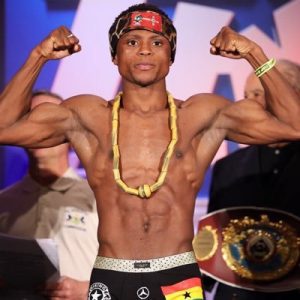 Former WBO Super Bantamweight champion Isaac Dogbe has gone to crowdfunding to help him finance his bid in other to reclaim his title
The boxer who in 2018 signed a long term contract with Arum's has not been in a match for a whiles since he has been losing the super bantamweight title to Emanuel Navarrete and now wanting to raise $10,000 in 60 days on Canadian sports crowdfunding site,MakeaChamp.
The former champ now offering signed items and sponsorship opportunities in appreciation for funds received
"To excel, I need to constantly push my limits. I have put my heart and soul into my craft and I'm ready to work extra hard, but at the same time, I know that the road to success will be costly," Dogboe states on his MakeaChamp profile
"By supporting me today, you are investing in something bigger than just a fundraiser. You're changing my life. Thank you for your generous support!"
MakeaChamp was started in 2011 by two competitive judokas who needed to finance their athletic goals.
written by : Alex Nanayaw Odeaba Ayidan (skirth Madona)