The aftermath of most Beauty peagent organised in our country is turning out to be regretful. The question on the lips of most Ghanaians concerned about this phenomenon is whether the young ladies who partake in this beauty pageant are exploited. Your guess is as good as mine.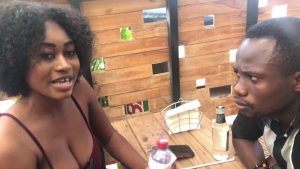 The recently organize Miss Commonwealth Ghana peagent is in the news for the wrong reasons with accusation from one of the contestants who narrated her ordeal on facebook and what she has been through.
She writes… "I contested for Miss Commonwealth Ghana which was held on the 7th of September. During our stay in the pageant house, a contestant's GH¢500 got missing, my SIM card got chewed and mobile money pin code got changed. The pageant is over and I made it to the top five and this automatically means I have a contract with them.
"I was called by the CEO on Sunday 6th October to come to her house on Monday morning to talk about my trip to the UK. I got to the CEO's house and she said we were going to Koforidua to find out who took the money. We got to Koforidua and mind you, it was a juju man's house. A very big house with two different fence walls."
She continued "We were 10 in number and the juju man gave us an egg with powder to throw. If you're the one who took the money yours will break but if not, yours will turn out cooked. I did and mine turned out cooked. I was asked to naked myself (sic) by the juju man and he started beating me with cutlass and put my finger into a boiling oil."
She said after her ordeal, "I was given an egg to swear not to tell any third party. They said if I did I would die." She went to Accra after her ordeal to file a report to the police and she was directed back to Kukurantumi to report the case.
But reacting to the incident, Sammy Kay caught up with Christabel Osei-Agyeman, 2nd runner up of Miss Commonwealth Ghana 2018 on the Go online show to share her opinion on the current happenings.
Christabel stated that the brand of Miss Commonwealth Ghana is international hence the current happenings won't affect the brand in any way. She said through Miss Commonwealth Ghana, "she has new job opportunities, met new people and through that same platform given her, many people reach her to offer her jobs, has participated in an international peagent through the Miss Commonwealth platform and so on …… "
She stressed that this is just one person levelling accusation, nothing have been heard from the other ladies who contested and the organisers of Miss Commonwealth Ghana therefore all should restrain from drawing conclusion.
Please watch the video below: