Open defecation (also used in the opposite meaning as open defecation free (ODF)) is the human practice of defecating outside (in the open environment) rather than into a toilet. People may choose fields, bushes, forests, ditches, streets, canals or other open space for defecation. They do so because either they do not have a toilet readily accessible or due to traditional cultural practices.
Open defecation continues to be a critical health challenge globally, affecting almost 1 billion people worldwide and contributing significantly to an estimated 842,000 people who die yearly from sanitation related diseases.
This is according to a research conducted by Issaka Kanton Osumanu, Enoch Akwani Kosoe and Frank Ategeeng on determinants of Open defecation in the Wa Municipality of Ghana. Empirical findings (Highlighting Sociocultural and Economic Dynamics among households.
Open defecation is prevalent in the Upper East region with about 89% of the people without any form of latrine, followed by the Northern Region with about 72% and Upper West Region with 71%.People with no toilet facilities resort to the bush or field or small receptacle for available defecation.
The seriousness of the situation is that children are the leading culprits, particularly because toilet facilities are usually not designed to meet their needs. Another name for open defecation is Air Condition. It is called Air condition because a person easing him/herself along the beaches, bushes, fields or any other space enjoy fresh air at various parts of the body while easing him/herself.
How funny and interesting it is to enjoy fresh air from the sea shore or a serene environment while pushing out the thing. Good feeling it is.Reminding you of how you use to enjoy fresh air while busily easing yourself either in the bush or at the sea shore. The Dadabees can't relate though but the Agya Koo kids like myself have engaged in it at one point in our lifetime.Dont pretend you are not a culprit like myself, Ghanaians mostly engage in open defecation not just because we lack toilet facilities in our houses but we hate to join the long queues in the morning or fight with residents at the latrine side as to who is to Puu Puu first or not
To make life easier, we find an air conditioned place to ease and enjoy ourselves forgetting the consequences such as the cholera or dysentery outbreak that claims hundreds of lives. We tend to blame the Almighty and Must Know government for failing to rescue the perishing souls to cholera and diarrhea outbreak.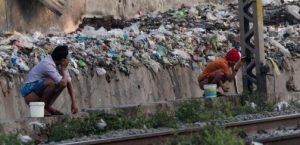 Even though the National Commission for Civic Education and other non-governmental organizations have engaged in various outreach campaigns specifically to educate the populace on the need to put an end to open defecation, yet it has yielded little results as Ghanaians enjoy air condition easing more than visiting the public toilets.
Ghana is ranked second after Sudan in Africa for open defecation, with almost 5 million Ghanaians not having access to any toilet facility. According to the research conducted, the number of people practicing open defecation in the open such as fields, forests, bushes, open bodies of water, on beaches and in other spaces or those who dispose human excreta with solid waste comprises the 5 million people.
However it was found out that, several socio cultural and economic reasons account for open defecation but a toilet facility present at home is not a priority or reason that can prevent people from engaging in open defecation.
Six factors which includes education, household size, occupation, income, traditional norms, beliefs and ownership of a toilet facility are other factors playing a major role in people defecating in the open.
The research find out that there is some relationship between educational background of respondents and ownership of toilet facilities as 65% of the households in the Upper East Region without formal education and may be considered illiterates did not own and use any household toilets.
Some of the respondents, the researchers spoke to indicated that open defecation was a practice they acquired or learnt from their fathers and grandfathers who lived over 100 years defecating openly without any consequences.
The respondents added that 'I spend most of my time on my farm so if l construct a toilet facility in my house, it will be a waste, because of this,l defecate in the bush before coming home. My late father used to practice same.'
Another respondent indicated that 'Our forefathers were defecating openly without any toilet facility but lived over 100 years, how can you convince me that open defecation is not good'.
It is imperative that the Minister for Sanitation and the National Communication for Civic Education has a lot more work to do if Ghanaians as at now continue to have this perception about open defecation and therefore not ready to do away with it.
The problem is no different in other regions not even in the coastal places where people especially children delights in going to the sea shores to ease themselves without any concern for the safety of the environment.
According to the research conducted by by Issaka Kanton Osumanu, Enoch Akwani Kosoe and Frank Ategeeng on determinants of Open defecation in the Wa Municipality of Ghana. Empirical findings (Highlighting Sociocultural and Economic Dynamics among households found out that children are the worse culprits of open defecation, then the problem is bigger as they will continue to shit for years and their children will continue the practice therefore the problem is not ending any sooner.
My fellow Ghanaians, no Government Ministry or non-governmental agencies can take care of the environment more than ourselves, it is binding on us to make a conscious effort to keep our environment clean and safe. Open Defecation is a national canker and suicidal as germs and other harmful bacteria from faeces can travel miles into other drinking water bodies of individuals that causes diseases and even death.
Gradually if we make an effort to keep our environments safe by stopping others from defecating in the open space, then the Government will have enough money to solve other pressing issues rather than prioritizing sanitation issues and fighting cholera outbreak.
By Adwoa Adubia.