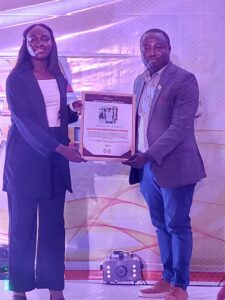 Accra, Ghana – In a prestigious event held at the Accra Metropolitan Assembly (AMA), young entrepreneur Jeremiah Maclean Jnr. (JM) was honored with an award at the inaugural Ghana Excellence Awards. The ceremony aimed to recognize and applaud the efforts of exceptional individuals who are making a positive impact on society, particularly in the realm of youth development.
JM had the distinct privilege of engaging with students from various universities in Accra, fostering a spirit of inspiration and collaboration. The awards ceremony focused on young entrepreneurs who are actively transforming lives within their respective communities, and JM had the opportunity to present awards to some of the deserving recipients.
However, the evening held an unexpected surprise for JM. At approximately 11 pm, the Maiden Group, organizers of the Ghana Excellence Awards, bestowed upon him an award as a gesture of gratitude and appreciation for his unwavering support for society, specifically in the realm of youth development. JM was deeply humbled by this recognition.
Accompanying JM during this remarkable occasion were his esteemed colleagues, including Alfred Agbo and Hon. Anita Otchere, both integral members of his team, as well as comrade Daniel Danso. Their presence added to the significance of the event, showcasing the unity and shared commitment toward the advancement of Ghana's youth.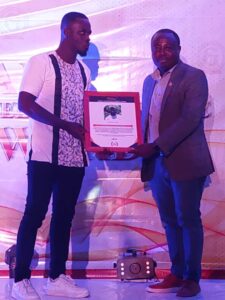 During a brief speech, JM encouraged the students in attendance to remain focused and nurture their unique talents, emphasizing that recognition would come their way one day. He assured them of unwavering support from a future NDC government, highlighting their dedication to empowering and uplifting the nation's youth.
The Ghana Excellence Awards served as a platform to honor exceptional individuals like Jeremiah Maclean Jnr. (JM), acknowledging their outstanding contributions to society. This event undoubtedly inspired young minds and reinforced the notion that with determination and dedication, anyone can make a positive difference in their communities.
Eugene Agemang Philips, who is the Director of Communications for Team Jnr. JM confirmed everything in this report.
Source: Ghanapubliceye.com