Accra, Ghana – Over the weekend, Jeremiah Maclean Jnr. JM and his team enthusiastically participated in the inaugural TEIN program organized by the Accra College of Education. This event served as a platform for JM to connect with fellow comrades and engage with a diverse group of students.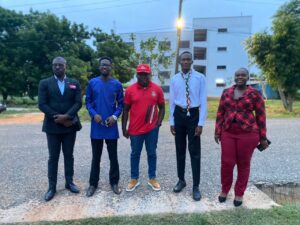 During the program, JM had the opportunity to interact with a section of the student body. He took this chance to inspire and motivate them, emphasizing the importance of perseverance and determination as they strive towards victory in the upcoming 2024 elections. Recognizing the significance of the student front in an election year, JM stressed the need for continuous engagement to strengthen the support base.
The maiden TEIN program at the Accra College of Education provided an invaluable opportunity for Jeremiah Maclean Jnr. JM and his team to collaborate with fellow comrades and inspire the students. Their efforts aimed to solidify the foundation and foster a sense of unity and purpose among the young generation, who play a pivotal role in shaping the future of Ghana's political landscape.
Eugene Agemang Philips, who is the Director of Communications for Team Jnr. JM confirmed everything in this report.
Source: Ghanapubliceye.com