Last Saturday, an officer from the Ghana National Fire Service (GNFSAgona )'s West Municipal office drowned while rescuing three people trapped in a 40-foot deep well at Gomoa Oboasi in the Gomoa Central District of the Central Region.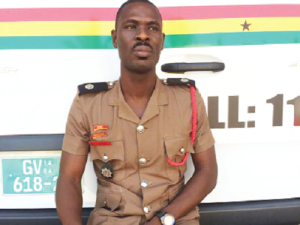 In an attempt to rescue two guys who were trapped while working in the well, the owner was also trapped.
The fire officer descended into the well at 8:30 a.m. and managed to rescue the well owner and two workers, Nana Kwame and Nana Yaw, but he fell into the well from a height and perished when the rope around his waist loosened when he was being pulled out of the pit following his rescue effort.
It took reinforcement from the GNFS's Winneba office about two hours to recover his lifeless body from the well.
The body of the deceased has since been deposited at the Swedru Government Hospital morgue for autopsy, while the three people who were rescued are being treated at the same facility after regaining consciousness.
Mr Benjamin Kojo Otoo, the Chief Executive of the Gomoa Central District Assembly, called the incident "tragic and sad," noting that ""both the deceased's family and the GNFS had lost a young and vibrant officer with great potential who unfortunately died in the line of duty".
He extended the government's condolences to the family and stated that the assembly would provide the necessary assistance for the late fire officer's burial.
Meanwhile, a large number of well-wishers and sympathizers, including Nana Osompa Nyamekye II, Chief of Gomoa Otaprow, near Agona Swedru, have visited the deceased fire officer's immediate family to console his wife and children at his home.
Source: Ghanapubliceye.com/Jennifer Owusu