One of the final year students at the University of Education, Winneba (UEW) has passed away after a peculiar sequence of events on Tuesday, September 7, 2021.
On campus, Abdul Majeed Sani suffered a severe spinal injury while celebrating the completion of his undergraduate degree.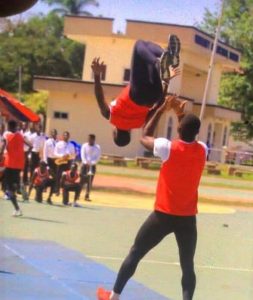 As a gymnast with the Department of Health, Physical Education, Recreation and Sports, Sani has represented the school in contests, accomplishing numerous complicated maneuvers.
A backflip attempt was made on that Tuesday, as the deceased and his colleagues walked out of the test hall in celebration. Unfortunately, the somersault failed and he fell awkwardly on his neck.
Sani had performed acrobatic feats just moments before the one that led to his death, according to his colleague, which may have made him unsteady throughout the performance.
Mr Sani was reportedly brought to the Trauma and Specialist Hospital in Winneba for treatment.
He was then taken to a hospital in Accra, where he died on Thursday, according to reports.
It's heartbreaking to lose a kid who was looking forward to his official graduation ceremony after spending years on campus.
The school's Student Representative Council (SRC) has also offered condolences to the deceased's family.
According to a statement written by its Public Relations Officer, Aziz Asana Imoro, final year students who are in the mood to celebrate their courses/programs' completion should do so in moderation and should not be carried away by their joy.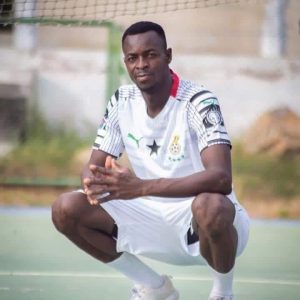 "final year students who are in the mood of celebrating the completion of their courses/programmes to do that in moderation and should not be carried away by their rejoice."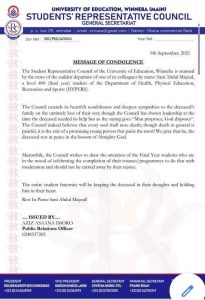 Source: Ghanapubliceye.com/Jennifer Owusu