The Government's One Teacher, One Laptop plan has been branded a scheme to steal from the public ,a statement released by the Tertiary Education Institution Network (TEIN), a youth wing of the National Democratic Congress (NDC).
In a statement on the expense of the entire program, Deputy National TEIN Coordinator Ekow Djan, stated it reeks of larceny.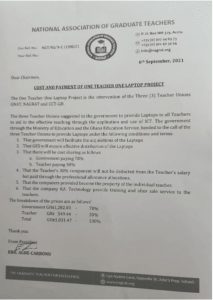 Dr Mahamudu Bawumia, Ghana's Vice President, launched and gave away 350,000 laptops under the 'one Teacher one Laptop' programme as part of the government's vow to educate Ghana's teachers with the necessary ICT skills to prepare the next generation for the Fourth Industrial revolution.
Dr Bawumia, assisted by the Minister of Education, Dr Yaw Osei Adutwum; the Director General of the Ghana Education Service, Prof Kwasi Opoku-Amankwa; and the leadership of Teacher Unions, handed over the first of these laptops, known as the TM1 (Teachers Mate 1), to the 71 teachers at St Mary's Senior High School in Accra on Friday 3rd September, 2021.
"Effective teaching and learning is critical to developing the human capacity for work, innovation and creativity; necessary ingredients for capacity building. Teachers are the indispensable pillars to this necessary capacity building. This initiative, in collaboration with the Teacher Unions, is to support the vision of the Ghana Education Service of creating an enabling environment to facilitate effective teaching and learning" Dr Bawumia stated.
As part of the initiative, Government will offer every teacher in Ghana, from Kindergarten to Senior High School, with a laptop preloaded with teaching materials and access to an E-Library with books suggested by the GES on various disciplines as part of the plan. The materials may be accessed both online and offline, and with free Wi-Fi provided in 722 Senior High Schools across the country, access to the resources available on the internet should improve research, teaching, and learning.
The state would cover 70% of the laptop's cost, with the teachers covering the 30 percent. The laptop, on the other hand, becomes the teacher's personal property and acts as a tool for professional development.
However, in response to this and another statement published by the National Association of Graduate Teachers (NAGART), Mr Ekow Djan issued a statement on Tuesday September 7 saying, The concerns surrounding this project deserve explanations from the three leading Teacher Unions and the Government.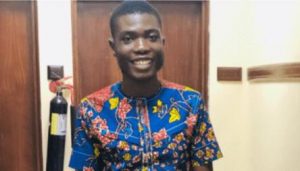 "This is a clear thievery, cooked by the Unions and perfectly executed by the Ghana Education Service, Ministry of Education and the office of the Vice President.
"A laptop selling at $69 is being sold to Ghanaian teachers at GHS 1550 according to the Vice President and on another breadth, the President of NAGRAT, Mr Angel Agbe-Carbonu is saying the unit cost of the laptop is GHS 1831.47.
"The Ghanaian teacher must only understand that the actual price of the laptop is GHS 414. Government will, however, deduct GHS 465 from teachers' salaries— an excess of GHS 51 has been added.
"This is nothing but robbery. Vice President Bawumia, Dr Yaw Osei Adutwum, Prof Kwesi Opoku-Amankwa and the Union leaders must be hauled before a bipartisan committee to answer questions. We cannot continue to do this to ourselves!"
Source: Ghanapubliceye.com/Jennifer Owusu