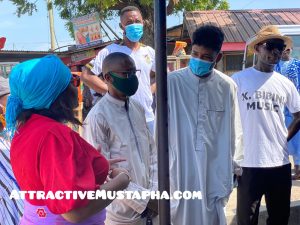 Today marks a very important day on the Islamic calendar and it is indeed a very special day to all Muslims.
After fasting for 30 days in the Holy month we give thanks to the Almighty Allah that we are here today.
Actor Rahim Banda who doubles as the Free SHS Ambassordor has joined hands with under previlage people at the Abossey Okai Zongo in commemorating the Eid Mubarak It was all up yours as he distributed alot of food items to the community.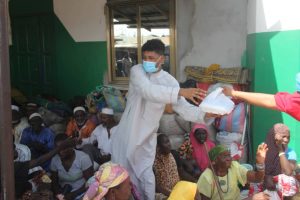 Speaking to Rahim, he said to this blog, all hands are not equal. "some of us are privileged enough to enjoy this day and it is only circumstantial that some of us can't. Gathered here with my entire family and team, we have made it a point to share meal and celebrated this day with the physically challenged. We first made a visit to the chief of the blind (Alhaji Abubakari Iddrisu) in Abossey okai Zongo. We then distributed food to over 300 people which include the blind, some beggars on the street as well as cripples.
He added that, "It's not easy taking the begging mentality out of some physically challenged individuals but I believe you and I can start educating the young ones the importance of education to stop them from begging on the streets
Eid Mubarak
RAHIM BANDA
FREE SHS AMBASSADOR