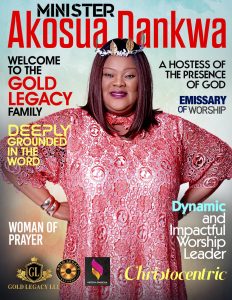 MINISTER AKOSUA DAKOA DANKWA
Dynamic and impactful Ghanaian-United State based worship leader Minister Akosua Dakoa Dankwa better known as Minister Akosua Dankwa , who is under the management of Gold Legacy Records has finally drop her hit single titled "All By Your Grace". The song which was written and sang in both English and Twi has the groove that will keep you on your dancing feet. The song talks about the grace of God and that words alone can not describe what God has done.
Minister Akosua Dankwa's ability to connect with her audience gives her the edge to inspire many people across the world with her powerful vocal prowess. Akosua's first single "All By Your Grace was released on March 27th 2020 which is already making waves across the world.
The seasoned, gifted and graceful
Minister can be best described as humble, hardworking, strong and courageous gospel artist. Additional, Akosua has strong stage presence, strong and dynamic vocal range, Woman of the Word, Christocentric, impactful, and has life-transforming ministrations.
Minister Akosua Dankwa's worship ministry began when she gave her life to Christ and has not turn the touch of her passion and ministry down ever since. Victoria Osae, Minister Akosua's mother has been very instrumental in her ministry. She helped in her daughter's destiny and hastened to nurture the seeds of God's calling on Minister Akosua's life.
While a student at the University of East London in the United Kingdom, she was an avid member of the Calvary Charismatic Church choir and was given the opportunity on countless occasions to lead worship. At Calvary Charismatic Church, she became part of the team that backed the famous African American gospel musician, Alvin Slaughter during a worship encounter.
The turning point in Minister Akosua's worship ministry however occurred when she relocated to the United States of America. She joined the Faith Family Ministries International Church where she served for ten years as a worship leader. 'This is where my worship ministry really grew and blossomed.' Said Minister Akosua Dankwa.
In 2014, by divine providence, she connected with one of her spiritual fathers, Reverend Sam Korankye Ankrah, the Apostle General of the Royalhouse Chapel International and this left an indelible mark on her.
'Reverend Ankrah's passion for true worship propelled me to a new level.'
In 2018, she was part of the worship team of the Tehillah Experience, an annual worship event held by Ghanaian gospel musician, Ohemaa Mercy.
'True worship is a conduit of the presence of God and in the presence of God there is absolute transformation. My goal is to ensure that God's people worship Him as it is written in John 4:23. This is my passion!'
Shekhinah Worship Network
In early 2019, Shekhinah Worship Network was founded based on a passion to create unforgettable worship experiences for those with a desire to have a love encounter with our Lord and Saviour, Jesus Christ.
The Network organizes one major event every year, the Shekhinah Worship Experience. 2019 was the first Shekhinah Worship Experience.
Akosua is currently being managed by Gold Legacy Records. A Christian record label and management company based in the United State of America and Ghana. Gold Legacy is into artist management, branding, event promotions, graphic designing, music video shoot, promo video creation among others. Another chapter of grace has began.
https://audiomack.com/song/casumadu/all-by-your-grace
STORY BY : Alex Ayidan (Skirth Madona)