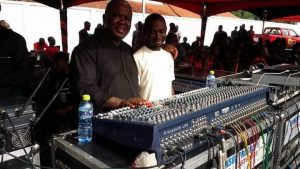 Prior to the establishment of modern studios in Ghana, there existed other studios. Notable amongst them were the Ghana Films Industry Corporation, now TV3, Elephant Walk at the North Kaneshie, now the Lighthouse headquarters, Bokoor studios at Ofankor,owned by Professor Collins, Faisal Helwani studios at Osu, Ambassador Records in Kumasi was phasing out, Sid Studios, owned by Alhaji Sidiku Buari at Dzorwulu,Overdrive studios at Kotobabi owned by Casely Hayford and managed by Sami Helwani then and few others i may not be able to readily recollect.
The sound and technical engineers manning those facilities were good. Leading the pack were Francis Kwakye(snr), Mr Brown, Mr Andoh, Jacob Sedzro,Samson Quainoo, Charles Wilson, Emmanuel Adjetey, Sami Helwani,Kwasi Yobo, Joseph Kojo Sam(Sarge) etc.
Then came Nana Boamah,Arc studios at Tema,who brought modern equipment. Some of the notable people who played a part were Ben Bani, Zapp Mallet, George Abban, Dickson, Kwadwo Akwaboa,late Willy Roy etc. People from all over the country especially Kumasi, made good use of that studio.
In Kumasi, Nana Aboagye Da Costa had established one at Bohyen and it was being manned by Dompreh, a good sound engineer with Ohene Dokyi(Shegelege).
Fredyma studios had also been established, Kay's Frequency by the late K K Dua, a former student of Mfanstipim School with the likes of Fafa Blagogee,formerly of Achimota School, Gabby Adjetey,son of Peter Ala Adjetey, Speaker of Parliament in Kufuor's government.
Then came 1993,when the most modern state of the art digital equipment studio, Combine House of Music(CHM) was established by Danny Blue, whose father owned Combine Farms, a multi million dollar pineapple exporting business. The engineers who manned this facility were Sami Helwani and Zapp Mallet with the late Kroppa Akuffo, the first Ghanaian bassist to introduce slap bass tone as a guest programmer. Nii Ayite Hammond,formerly of Charter House was part of the management and a Graphic designer, Cox Tamakloe, Amef, K O,Mr Nsiah as the manager and Zola as the assistant to Zapp.One of the first production that came out was "Mesi wo ohemaa" by Ekow Ziggy Micah which was a hit.
Other studios too were established like Slim Buster's studio, Town House, K Gyasi(Kumasi)etc
Some of the artistes who used modern day programming were the Sibo brothers, Tagoe Sisters, Daughters of Glorious Jesus, Mary Ghansah,CST Amankwah, Stella Seal(Dugan)Amy Newman, Kaakyire Kwame Appiah and countless musicians.
Awwww, i am tired. Need some breakfast. You feel ticklish? Send your "lockdown collection". Lol
Will continue with how Despite and other music producers came to the scene and the discovery of Kwame Yeboah. Stay tuned
#musichistory3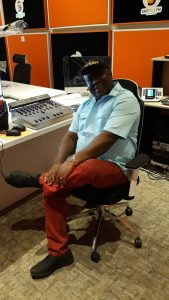 MODERN MUSIC PRODUCTION IN GHANA(DISCOVERY OF TALENTS) PART 4.
Thanks so much for the feedback. I hope i am sharing with you the little that i remember. You can help the discourse by contributing and reminding me of some talents i might have forgotten. As for the book we shall write after the coronavirus so, make your contributions ready. Lol
The 90's saw the emergence of great computer programmers like, David Kwamena Bolton who established D'Kay B studios with his able lieutenant Phelps Robertson(Fiifi)at the industrial area. They churned out a number of hits.
Prior to that, we had Zayaa sounds who had also established a studio around the Obetsebi Lamptey Circle with the likes of Ahuma Bosco Ocansey,Shegelege,etc. at the helm of affairs.
How can one forget Opara Mensah, the blind prolific sound engineer who produced a lot of hits for the late Rev Osei Bonsu,Mark Anim Yirenkyi etc. Nana Gazor was also a force to reckon with not forgetting, Cage studios. Kwaku Sarpong of Kumasi(Bombialic studios)was also churning out great recordings. There was a studio too at Ash Town and Krofrom in Kumasi that had the likes of Daddy Sam controlling affairs. Charlie Sam was also in Takoradi dishing out great gospel recordings with Amy Newman.
One day, i was in my studio when my senior colleague, Joseph Kojo Sam Sarge, a great sound engineer and bassist who had recorded with great artiste in Nigeria walked into my studio with my brother Ebenezer Agykum(Tuga)now in Canada. Guess whom they came to the studio with. Our own Dr Osei Kwame Despite,then a young producer. We kept wake and at point, he slept somewhere on the floor. Later in life, he established two studios, one in Kumasi and one at Mile 7 that is the old Peace fm site. Akom ko!
Some of the few artiste who took advantage of the new digital recordings were Josh Laryea,who released an album in 1991 and the launching done at the campus of Accra Academy. Zapp Mallet recorded it at Sid studios. During the launching, i played the keyboards. Memories.
There were also great programmers like, Hector De Graft Johnson, a great keyboardist and a former student of Adisadel College who also worked with me. In fact he made me understand Atari Computer programming better. Kofi Essel, Abi Emma,late Fiifi Bezalel, Fred van Dyck,Captain Boge, Kafui Dey,(who did the keyboard works on Shasha Marley's "Maata album") which coincidentally was produced from Fredyma studios, Eric Bobo, late Lord Pinto of the Musama church and the Fish band etc.
I quite remember, Rev Addae Mensah produced a lot of songs which was done at the Citirock studios at Osu and engineered by Sami Helwani. I remember Sami Helwani and i pouring from Atari to Apple one night in that studio. Oh the land that time forgets. Sami later, established his own studios at Nungua.
In part 5, i will deal with the legendary Kwame Yeboah,Nana King,D'Hammer of the last 2,Morris Baby Face,JQ,Appietus, Shadrach Yawson and a host of others who established studios from the late 90′ to the 2000's.
See you next time when i get the energy to write. My foodstuffs are running out.
#musichistory4
Source : Ghanapubliceye.com