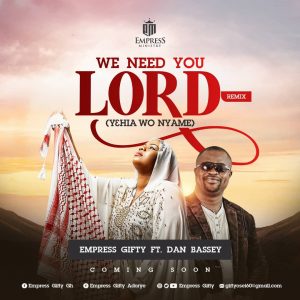 The renowned and multiple award winning Gospel musician Empress Gifty has released another gospel banger to calm down Covid-19 fear and panic in Ghana.
This gospel banger is titled "Yehia Wo Nyame" literally meaning "We Need You Lord" which happens to be a remix version of "Yehia Wo Nyame" on her "Yento Nkyea" album.
The song which was programmed, mixed and mastered by the music producer Bassey Mix is deep in lyrics, rich in message and got soft slow tempo that narrates about how God is with His people in terms of all difficulties.
According to Empress, one may have been fighting with his whole strength and could not succeed but once you give up the fight to God the Almighty, He demonstrates His powers in your situation.
In other words Ghana might be in fear and panic as a result of this pandemic virus spreading across the globe but may be the first to surprise the world by providing a lasting solution to this menace through the God of Elijah who strengthen us.
Empress Gifty added that, it doesn't matter how many steps you have made in your journey of life, God can double up your steps and put you ahead of the starters regardless.
It's a very wonderful inspirational song by all standard. You can get a copy of Empress' "Yehia Wo Nyame" song on all digital platforms and on her YouTube channel. Empress Gifty.
Source: Ghanapubliceye.com