In adherence to the National directive on public gathering due to the spread of the epidemic Corona Virus, Empress Ministry hereby announces the postponement of the The Resurrection Effect Concert" (TREC2020) until further notice.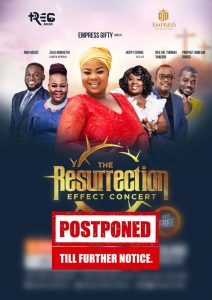 We entreat the public to comply with all precautionary measures in order to stay safe and sound.
Empress Gifty would still be holding her Live Prayer Session dubbed "May God Heal Our Land" on Facebook live every evening at 6pm .
Source: Ghanapubliceye.com