Sensational and influential Gospel artist Bernice Ansah is set to launch her 12th album.
The album which is titled "Am Not A Slave Anymore" said to be even better more powerful than previous albums. The album has songs that will librate the children of God from any kind of slavery hence the chosen title .
The launch of the "Am Not A Slave Anymore" Album will be on the 15th of March 2020 at the Radiant Place, Apenkwa opposite Papaye or the Total filling station and the time is 1:30pm.
Bernice Ansah is undoubtedly one of the most wonderful Gospel singers who have seen it all. She's raised a lot of young talented Gospel musicians through her ministry.
People who have followed her ministry for the past years know she is very serious when it comes to her ministry work . She will never compromise the work of God for anything.
Speaking to her, she told this reporter there are going to be the presence of many renown Gospel musicians under the program including some powerful men of God.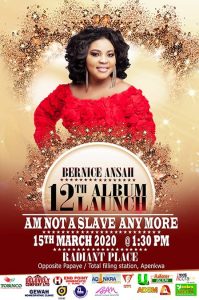 Come and be blessed.
Written By : Mz Pamzy