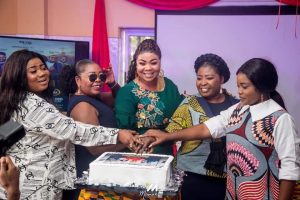 The MJ Grand Hotel came to light with the glamorous launch of The Resurrection Effect Concert 2020 from the beautiful display of Ghanaian culture, red carpet and all the glitz.
The launch of the second edition of TREC saw the presence of industry players , The Chief of The Ego community in Ghana, the media and massive support from some gospel musicians.
Speaking at the launch Empress Gifty revealed that this year's theme is "The Blood That Speaks Life" , taking from Hebrews 12:24.
According to Empress Gifty, lives and situations will be change at the concert because the Blood of Jesus Christ will speak for all who will participate.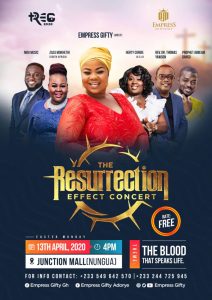 However the Empress Ministry will make some donations on Sunday April 12, 2020 and take off with the concert On Easter Monday April 13, 2020. The donation is part of the concert to spread love just us Christ died on the cross for our sake because of the love He had for us.
Empress Gifty revealed that, planing for TREC 2020 was done almost a year now just to ensure all goes well and improve on the previous one. With support and donations from some individuals and companies, the Ministry will defenitely have a successful concert and all activities will be carried out well as planned.
Artists who will be part of TREC 2020 are Rev. Thomas Yawson, MOG Music, Prophet Abbeam Fans and two international act from South Africa and America respectfully, Zaza Mokhethi, Herty Corgie and many more.
This years TREC will be at the Junction Mall Nungua on April 13, 2020 at 4pm.
Empress Gifty has a surprise in stock at this year's edition so you do not have to miss out .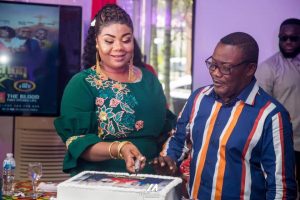 The launch ended with the unveiling and cutting of the beautiful cake that had the logo for TREC 2020.
Written By: Pamela Abaah (Mz Pamzy)