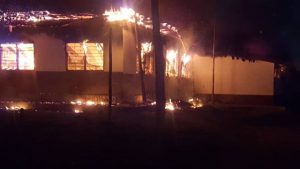 There has been another fire outbreak at Accra Academy school , this will be the second time in a month that fire has gutted some parts of the school, the first incident which happened on 15th January 2020, involving the Alema and Halm Addo halls leaving students with no option than to evacuate the halls.
The same Alema Hall in the Bubiashie-based boys school was completely ravaged by fire on Tuesday 28th January 2020 during prep hours. The Ghana Fire Service were able to put the fire under control but it is unclear the cause of the latest fire incident.
However authorities have assured the safety of the students on campus and have hence evacuated them from the hall.
Written By : Pamela Abaah (MzPamzy)