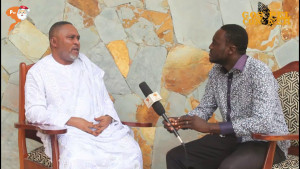 Founder of Bless You International Ministry Bishop Micheal Nana Bassah has cautioned Ghanaian's to be careful in 2020 because this year will record a huge number of death in the country due to the upcoming elections.
The bishop in an interview on Pendream Tv said, Ghanaian's should expert a large number of death this year as it marks an election year and a very tensed year, according to the Bishop the spirit world put things in place to have people lose their lives last year on Christmas but men of God stood against it and stoped it, therefore this has made 2020 a target to carry out their mission. He emphasized that car accidents will be the major cause of the mass death as it has being bought for Ghanaian's in the spirit world and will appear physically.
He cautioned drivers to be careful and make sure they pray before the move their cars, "i want to tell drivers to make sure they pray before they set their cars on the streets because spiritual police men have been placed on our roads to cause accidents" he said.  Bishop Nana Bassah added that this tragedy that will befall the country in 2020 will take place from January to May which be very drastic and fast.
He also cautioned men of God to stand firm and stop fighting each other because its the work of the enemy in other to be able to carry out their work, he also said that men of God should be very careful in receiving monies from politicians and others as it hinders them to speak the true word of God and do the true work of God, "Pastors will lose greatly if we focus on monies than the true work of God he said".
He then called on fellow Christians and Men of God to come together and fight this mass death in other to save the country and its citizens from losing their friends and family rather than fight each other from their churches.
Bishop Micheal Nana Bassah is the Founder of Bless You International Ministries.
Written By : Skirth Madona