The Attention of Atinka Media Village, operators of Atinka TV, Atinka 104.7FM, Agyenkwa 101.9FM in Kumasi, Ahotor 102.3FM in Takoradi and Atinkaonline.com has been drawn to some inaccurate information circulating in sections of the Media with regard to the inability of Precious Mensah (PM), Winner of Di Asa Season 3 to travel to Dubai with the other winners as part of their winning package.
As promoters or organizers of Atinka TV's Di Asa Reality Show, we hereby take the opportunity to set the record straight owing to our commitment to the public, sponsors, our loyal viewers, family and friends of Di Asa contestants:
We state unequivocally that AMV has not made any official statement or comment with regard to the issues currently running on various media platforms prior to this release.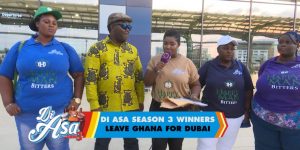 The speculations are, therefore, a figment of the imagination of some persons who are not privy to the facts and making statements based on ignorance, lack of information or have intentions to cast a slur on the hard-won reputation or image of PM and the Di Asa Brand.
It must be on record that we the Organizers of Di Asa – AMV acted in good faith in accordance with the promise made to our Queens – a tour of Dubai as part of the winning package.
All the necessary arrangements to enable them embark on this important tour were duly provided. Key among them were Visas, a Four-star Hotel Accommodation in Dubai, Per Diem, Money for shopping and Flight tickets based on the advice of the Emirates Airline ticketing Agent.
Our Queens including PM went through all the departure formalities on the travel date with representatives of the ticketing agent present to assist them in the departure formalities. This is because we had informed them about the sizes of the Queens and the need for special seating.
At about 5:30 pm, a few minutes to boarding time, when all the queens had completed the check-in process, an Emirates official, informed us (AMV) that the Airline could not complete the Check-in process for PM without offering tangible or logical reasons.
When pushed further and asked why, they informed us PM could not board the plane due to safety reasons. When we enquired further, they said they were in consultation with their superiors at the Emirates Office at Mövenpick Hotel in Accra for further directives.
We further asked them if the problem had to do with seating and if procuring additional seat could solve the problem, but the Emirates officials at the airport said there was no need for that (it must be emphasized that PM was present and witnessed all these engagements with the Emirates officials).
It must also be on record that the airline ticketing agent had been duly informed that the tickets were for plus- sized passengers (Di Asa Season 3 winners).
Around 6:15 pm, still in the presence of PM, the Emirates officials came up with an option – per the official's statement, the only option available then per consultations with the Airline Superiors back at the office, was to go by first class (Please bear in mind that the departure time was 6:50 pm). At this point, we decided to adhere to the directives by offering our accumulated mileage to upgrade our Queen's seat to first class. We offered to upgrade our Queen's seat to first class with our accumulated mileage due to the timing of the information as AMV was ready to fly our Queen to Dubai at all cost. Emirates Airline again denied us this offer saying we could not use our mileage at that time and still requested us to pay a top-up of almost $10,000 which is equivalent to GH¢ 57,000 at the last minute for the First Class.
We saw this as an unfair treatment, unprofessional and discrimination against our Queen, particularly when the Airline Ticketing Agent had prior knowledge of who they had issued the tickets to.
When it became very clear that our Queen had missed her flight, officials of Emirates then advised us to take her to the Emirates office at Mövenpick Hotel the following day, with a further explanation that they had sent a mail to their superiors and that they had been advised to bring her over for further assessment and advice. This, we did the next morning with the high hope that our Queen could travel on that very day.
We, therefore, decided to keep her in a hotel that night in anticipation that she could travel the next day.
We reported at the Emirates Office before 10:00am the following day to ensure our Queen travelled, but as at 2:00pm, the Airline had still not communicated to us their position or given us reasons for the undue delay even though they had done the necessary assessment by fitting her in a dummy seat at the corporate office.
Later, at 4:35 pm, they advised us to let PM take the lead to the airport while we waited for confirmation from the Emirates Office in Dubai on the assessment report sent via email.
So we (AMV) advised PM's mother to take her to the airport while we waited at the Emirates office at Mövenpick for confirmation.
After going through all this stress and after PM had checked in at the Airport to begin boarding formalities, at about 5:45 pm, we (AMV) received a call from the Emirates Office in Accra that their superiors in Dubai had directed them to take an additional $2000 dollars for two economy seats and extension of seat belts when it was few minutes to departure, a request we had earlier made but was rejected by the Emirates officers the previous day.
As we issue this release, her ticket is still with the Emirates authorities at their Corporate Office in Accra.
We consulted our legal team immediately who advised us to hold on with any additional payment or commitment since Emirates was acting in bad faith.
Fellow Ghanaians, the issue or our challenge here is not about the money or additional commitment requested by Emirates Airline but we realized that the unfair treatment meted out to our Queen by Emirates Airline did not necessitate any further engagement or commitment under the circumstance.
We will communicate our next line of action in due course as our legal team is considering various options to assert our rights and that of our Queen.
We want to assure PM that as our celebrated Queen, we will do everything possible to accord her the prize she deserves including but not limited to adequate compensation by Emirates Airline and fight all forms of discrimination against plus sized persons.
Based on the above facts and information presented, we (AMV) call on all Ghanaians, Government, Ministry of Gender, Children and Social Protection, Ministry of Aviation, Civil Society Groups, Stakeholders to help curb issues of this nature and rule out any stigmatization and discrimination against plus sized persons especially in Ghana and across the world.
SIGNED
ALBERT KWABENA DWUMFOUR
(EXECUTIVE PRODUCER/MANAGING DIRECTOR)