The National Youth Organizer of the ruling New Patriotic Party (NPP) Sammy Awuku has said, prior to the General Election in 2016, he deliberately recruited some NDC boys and girls to campaign for the NPP in order to hit the NDC hard in their own back yard. Ghanapubliceye.com reports.
He made this statement on Peace FMs Kokrokoo Morning show today 28th April 2017 this morning whiles Kwame Sefah Kai the host of the show had called him to speak on the issues put on the discussion board.
According to Sammy Awuku, he wouldn't want to accept any allegation from his party faithfuls sort to claim some of the female appointees in the MMDCEs position were romantically engaged with some NDC gurus and for that matter, if care is not taken, they might end up selling their party's secretes to the opposition party.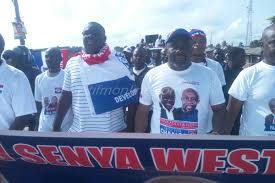 ''If we should entertain this kind of issues, then trust me, some of us will soon be fingered with same allegations because I also took some steps of that nature. I deliberately contracted some NDC foot soldiers, both boys and girls to join our campaign prior to the elections. Even the National Organizer and General Secretary of our party John Boadu was aware of this strategy. As I am speaking to you, he even owe some of my girls'' He said this in laughter.
He added that, the decision was to be able to hit the NDC hard in their own back yard and it really worked for them. ''And so for any person to allege that any of our ladies or women romantically went out with an NDC guru is neither here nor there. For all you know, that woman was able to win that guru to vote for the NPP, hence, the reason for our winning the 2016 elections. What about that? '' He asked rhetorically.
Source: Ghanapubliceye.com