The Akuapem Adontenhene who doubles as the Chief of Aburi, Nana Otubour Gyan Kwesi has responded to the Akyem Youth Association calling on him to apologize to Okyehene Osagyefuo Amoatia Ofori Panin and the other two paramouncies for making a statement that suggest they are complicit in the illegal mining activities popularly called Galamsey in the Akyem enclave. Ghanapubliceye.com reports.
According Nana Otubour Gyan Kwesi, he didn't intend to say exactly what they claim he said. ''I was invited by Odi Ahenkan of Peace FM as a guest speaker at his opening ceremony of an ICT hall he has built for the people of Aboabo township and during the program, all the speakers tried to advise the people gathered to desist from galamsey since all water bodies in Akyem land are being damaged. When I was given the chance to speak, I also called on the chiefs on Akyem land to help in fighting this menace. Why did I say that? I said that because, all the lands we occupy belongs to the chiefs and so we the chiefs have the responsibility to protect our lands and our people. Nobody can just bump unto our lands and destroy it unless we the chiefs give them the permission to do so. So I used the occasion to call on all the three Paramount Chiefs on Akyem land to help the Presidents call to end Galamsey in Ghana. And I advised all chiefs in Ghana to exercise their powers since this time around, we have had a President who has taking it upon himself to end this menace. This is what I said, nothing else. I never intend to attack the Okyehene or anyone on our land. I only made a general statement on the issue and I'm sure the media twisted my speech'' Nana Otubour Gyan told Kwame Nkrumah Tikesie on Okay FM today 25th April 2017 in an interview.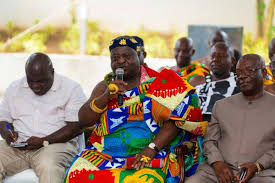 Nana Aburihene also pleaded with the youth of the land to exercise patience and not politicize this issue. ''Let's not politicize this issue at all, I made the statement and I know my intentions of saying it. It was not meant to attack anyone but to only demonstrate to our Chiefs we have the authority to help the President to achieve his goal in this galamsey problems. If what I said didn't go down well with them, then I sincerely apologize to the youth and elders of our land. I never intend to attack or disrespect anyone but to say something that will help the entire country.'' Nana Aburihene calmly apologized.