The most talk about gospel diva, Empress Gifty Osei has once again been awarded as the Most Stylish Artist of the year in the just ended Fashion and Lifestyle Awards 2017.
The award that was organized by the event company Fusion House Multimedia on the 31st of March 2017 saw Empress Gifty Osei picked home the Most Stylish Artist in Ghana at the Paloma Spintex branch.
Fusion House Multimedia is an event house that seeks to Reward excellence in sustainable and aspirational buildings of the fashion industry, the fashion and Lifestyle awards recognizes the best examples of hardworking and motivational fashionistas and media personalities contributing immensely to the fashion industry and Ghana as a whole ranging from make-up artistry practice, allied to excellence in the designing and costuming concepts to the run way and social media blogging, actors and musicians as well the development of people, product, and processes in the fashion and commercial industry.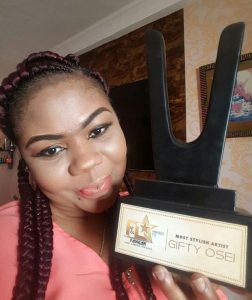 Fusion House Multimedia which is also an entertainment and business oriented event house involves and inspire the creativity among the youth, helping improve and create a better society. They help the society to bring to life young talent and creativity through entertainment and fashion.
The controversial and fashionista Empress Gifty Osei was adjudged by the board as the Most Stylish Artist under the year of review on the basis that, her appearances over the years at all social event places was tipped by the academy as the best as far as fashion is concern. According to the board, Empress Gifty Osei came out as the most outstanding celebrity in Ghana after their terror search. The style of dresses she put on, make ups, combination of colours and knowing what to put on at any given time alone makes her different among the rest of the musicians in Ghana.
Don't forget, Empress Gifty Osei is a fashion designer and used to be a seamstress. She winning this award explains who she is in terms of fashion. To those who understand fashion understand her lifestyle.
Source: Ghanapubliceye.com