The sensational worship singer, Awura Ama Ahinful has consistently led her audience deep into the atmosphere of God's presence  with spirit filled music and her soothing voice at her annual event dubbed ''Attitude of Gratitude'' over the years.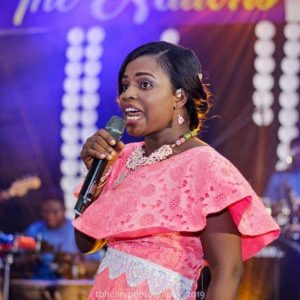 Awurama Ahinfo even though has not blown into mass market of Ghana's music industry but has demonstrated to all music pundits she's part of the few musicians that can make some difference for our growing industry as far as gospel music is concern. If her beginning can be this attractive and a force to reckon with, there is no doubt her future in the music industry will shook the four corners of this country and beyond.
As humble as Awurama Ahinfo is, she's being able to increase the patronage of her annual program Attitude of Gratitude.  Last year's Attitude of Gratitude was awesome and this year will surely be one of the biggest gospel event looking at the seriousness attached to its organization.
Speaking to a management member, he told this paper, this year's Attitude of Gratitude will be held on the 21st of May 2017 at the Nungua Church of Pentecost FS Sarfo Memorial Temple, opposite Dutch Hotel. He added that, this year's theme for the Attitude of Gratitude is ''For of him, and through him, and to him are all things: to whom be Glory forever. Amen'' (Romans 11:36)
Awurama Ahinfo as a worship leader who has served the Lord with greater part of her life, believes worship is not just about the song but the place and point where the worshipper meets God. Therefore, she has invited some gospel musicians to join her raise the Banner of Christ on this special day. Some of these musicians are Francis Amoh, Deacon Sammy Baah, Rose Adjei, Bro Simon, Nana Gyasi, Shadrach, De Arthur's, Grace Choir, Safor Choir, Trinity Music Network, Min. Jeff among others. You can't miss this event. It shall be a historic event that will stick in the minds of whoever will attend it.
This woman of God  Awurama Ahinfo through prayer, fasting and waiting on God has medleys of worship, praises, traditional and contemporary gospel music packaged on her new album titled "OSORO ABUA"   Awurama has performed stages like "September to remember" 2014 at the national theatre, "Thanksgiving in Worship" 2015 at the kaneshie Presbyterian church, Francis Amo's "Garment of worship", "Agafest" and many more. Awura Ama doubles as a motivational speaker and a mentor who has led many young people to realizing their God given potentials. Her believe in the power of worship has always given worshippers a special package from the Most High by bringing her audience to the level of loving and exhibiting the true meaning of worship.
Awurama is married to a handsome and a God fearing husband Mr Samuel Ahinful and they are blessed with two beautiful daughters.
Source: Ghanapubliceye.com