Over the past decade, delivery systems for safety net programs in developing countries, particularly in Africa, have been largely paper-based. Social assistance projects in these settings often conjured pictures of tedious long lines to fill out paper registration and attendance forms, ink-based thumb printing to receive payments, manual verification of beneficiaries using a combination of different ID cards, as well as high levels of unintentional administrative errors, corruption and fraud.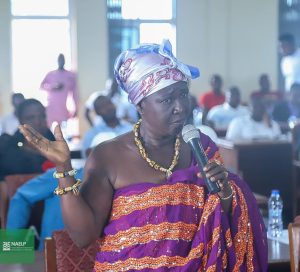 Today, there is "light at the end of the tunnel" as technology starts to reshape this landscape even in remote and poor villages in developing countries.
Ghana, a lower middle-income country, provides a good illustration of this transformation in delivery systems. A few years ago, the Labour Intensive Public Works (LIPW), a cash-for-work program implemented through the World Bank's Social Opportunities Project in Ghana, was delivered almost completely through manual systems.
On average, close to 29,000 workers spread across 228 sub-projects in some 300 communities worked over 2 million man-days on a public works project per season. This amounted to almost 13 million man-hours worked each season, recorded on reams of paper, to be later entered into an excel spreadsheet by project staff. Macros were ran, errors picked out by the human eye, and a payroll put together. A second check was made by the district staff that handed out cash payments to beneficiaries in the field. The effort to produce a clean payroll every 2 weeks, was massive and difficult.
Today, the Labor Intensive Public Works program uses biometric machines to register, enroll and verify beneficiaries. The project's upgraded management information system also records tasks, tracks attendance, and has a functional monitoring and evaluation module to record progress and results of sub-project activities.
Beneficiaries are then issued with a biometric (E-zwich) smartcard to access their earnings. The wages are computed based on completing an assigned daily task. An automated process then captures attendance timesheets using beneficiary biometrics on the field.
During payments, the beneficiary's smartcard issued during enrolment is inserted into a Point of Sale device or an ATM and fingerprints verified. Once the verification is successful, payment is disbursed.
These processes have improved overall project implementation, deepened public trust and confidence, and increased beneficiary participation.
Rationale for using information and communication technology (ICTs)
The effective use of ICTs in implementing the Labor Intensive Public Works program in Ghana has been one of the success factors, on both program governance and efficiency as well as realizing program impacts.
One of the key objectives of introducing ICT was to achieve operational efficiency: for example, reducing response time, increasing transparency of project activities, improving workflow and streamlining information management through shared databases. At an operational level, the use of technology supported effective identity management and accountability through transaction tracking.
Secondly, ICT has reduced leakages associated with "ghost" beneficiaries using Biometric registration and removing redundant data. Moreover, the electronic payments (through smartcards, Point of Sale devices, ATMs, etc.) has reduced chances of officials asking for bribes during payment days.
Some key lessons learned when integrating ICTs
Inclusive systems development: The systems development was inclusive. This was achieved by customizing the products and incorporating feedback from users at all levels into the system. Stakeholders from data entry clerk at community, participating Local Authority to the project Director were trained, had access to the system and gave comments and most importantly these comments were fed back to improve the system.
Innovations in identification: Even without the national ID, the biometric system could help in the beneficiary identification process. This has contributed to improvements in the payment systems.
Ownership and political will: High-level decision-making and political will from the Ministry of Local Government and Rural Development made the implementation possible. This also facilitated rapid setup of institutional frameworks as the technology for the management information system was being developed.
Integrating management information systems: Lack of a data sharing agreement limited the extent to which the management information system can integrate with other systems. A data-sharing agreement in which projects and other government entities can share information across sectors can facilitate efficiency in delivering integrated services from across sectors and institutions.
Through the public works program, sub-projects that included constructing roads,
tree planting for climate change, and building small earth dams and dugouts were established. Each of these sub-project presents data in different formats using different parameters.  While the implementation staff worked closely with each sector to prepare specifications and data requirements for integration into the management information system, unifying requirements into one system to support sub-projects across different sectors turned out to be a daunting task.
Written By: Stephen Kenneth Nakujah