In line with President Akufo-Addo's vision to digitize and formalize government service delivery processes, Vice President Dr. Mahamudu Bawumia today launched the Online Scholarship Application and Administration System under the auspices of the National Scholarship Secretariat.
Under the new system, applicants can apply from the comfort of their homes, take an aptitude test and be interviewed in their own districts without coming to Accra as in the past.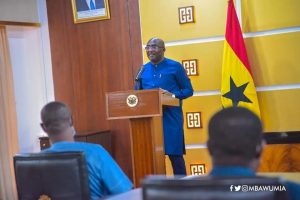 This new system will ensure further transparency in the award of scholarships and reduce the risk of corruption as all workflow regarding scholarship applications will be streamlined. Again, the new system will provide accurate and reliable data on scholarship beneficiaries as well as tracking their academic progress.
Source: Ghanapubliceye.com