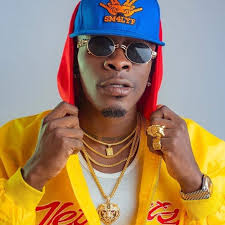 The ban on celebrates advertising alcoholics beverages has been one huge topic facing the Ghanaian creative art industry for a while now, this has made some celebrates really upset and have taken the time to speak their mind on this issue in other to arrive at favorable decision from the FDA.
Wendy Shay started the campaign when she took to her twitter page to lament about the ban after she lost a deal worth millions of dollars from a foreign alcoholic company because Ghanaian artists have a ban on advertising alcoholic beverages.
Other Industry players and artists have also tried to push the agenda on raising the ban, Charles Nii Armah Mensah popularly known as Shatta Wale on Facebook live has also joined the campaign to lift this ban. According to the dance hall art, the FDA could have come up with better decision to help stop minors from abusing alcohol than banning celebrates from adverting these beverages since its a high form of generating income as a celebrity . Shatta Wale in the video described the decision by the FDA Useless since its not benefiting celebrates financially.
He advised the FDA to rather ensure that sellers of alcoholic beverages check ID cards of buyers before selling alcohol to any one since that's is what is than in other countries and is the right way stop minors from abusing alcohol.
He also expressed his disappointment in Ghanaian celebrates because they are scared to come out and talk about the ban since it involves the FDA and other big people in the country. The Ghanaian Dance hall art also seem not to understand why the FDA even put a ban on celebrates advertising alcoholic beverages forever in Ghana in the first place, the artist explained that alcohol has been something in existence ever since God create earth and its a normal thing.
About five years ago, the FDA made it known that celebrities could not advertise alcoholic products in Ghana.
Written By: Skirth Madona