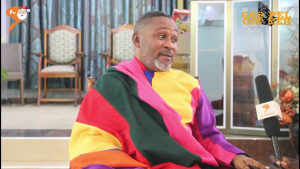 Bishop Michael Nana Bassah has advised Ghanaians to respect and take Rev. Owusu Bempah seriously because he is a true Prophet of God.
According to the Bishop, Rev. Isaac Owusu Bempah is truly called by God and he is doing the right work of God, but because he does not make to much noise like the other pastors do, Ghanaians take him for granted.
Owusu Bempah holds a strong spirit of God he said, God's hand is strong on Rev. Owusu Bempah he said. He told Pendream tv that he was in Ministry before Owusu Bempah quit football to also join ministry and has watched him grow, but Ghanaian crucify Owusu Bempah because they have no knowledge about the power he holds from God
Bishop Bassah added that it was also revealed to him that Owusu Bempah is a real man of God and that is why he is so sure about his authenticity
Bishop Michael Nana K Bassah is the founder and leader of Bless You International Church located at Hatso Accra Ghana.
Written By: Alex Nanayaw Odiaba Ayidan ( Skirth Madona)