There was a war of words over God, between NDC Presidential Candidate John D. Mahama and soon to be NPP Presidential Candidate Nana Addo Dankwa Akuffo-Addo. JM was reported to have said that God allowed in the NPP so Ghanaians would appreciate the NDC. In a quick riposte, Nana Addo Dankwa also invoked his own angle saying God would not be so wicked as to allow the NDC to return to office.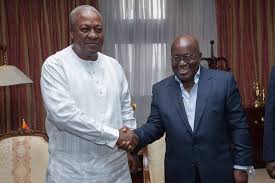 As political platform repartee goes, what else can one add, except that Nana Aba Anamoah, a presenter on a television network did have a lot to add! She is very petite and sweet (pardon the male chauvinism turn of phrase) and over the years has amassed quite an admiring and loyal following. Her network reported fully on the exchanges between JM and Nana Addo and she commented as follows after the news:
"We are not angry enough, we are not demanding accountability enough. The president today in the Volta Region should be telling us how many jobs he has created in the Volta Region alone, he should be telling us the numbers he has added in the Volta Region alone, he shouldn't be reminding us of what John Mahama did or said, we are not interested in that, there are problems in the Volta Region, he should be telling us what he has done to solve those problems. We already know what John Mahama did or didn't do, we do not need him to be reminding us of that…"
Nana Aba used no insulting words and though she sounded frustrated and disappointed, she was controlled and measured and put points across that would, though, be unpalatable to some, in general public interest terms can be described as "fair comment".
It is a delicate balancing act, in journalism to be fair, or if you cannot be fair, be decent and civil. I was in a small discussion last week with a group of younger colleagues on the issues of neutrality, objectivity and impartiality in journalism. Difficult to attain, I told them, for you cannot expect a media house established, say, with social democratic leanings to be neutral in matters relating to that political philosophy or say a media house established to espouse conservative ideals to pander to socialist ideals. There is only one meeting ground: Professionalism. Professionalism means there are some lines you cannot cross. Once you employ the professional tenets outlined by the likes of Joseph Pulitzer, you can have a plural media that serves not only the interest of its owners and target group but the overall national interests as well.
During the brouhaha over the Comprehensive Sexuality Education (CSE), the country went into overdrive of condemnation, citing religious, cultural and traditional values – what some would describe as a conservative outlook. Only one person I can cite, Ms. Elizabeth Ohene, a sometime editor of the Daily Graphic and presidential information spokesperson, attempted going against the grain…She did it with well marshalled and argued points that were to me more thought-provoking than the mass expression of righteous indignation flying all over. Professional as ever, she got her opinion across without trying to be a hero with pugnacious and gutter words with the intent of causing offence…
And much offence was caused this week by a young lady called Nana Akua Acheampomaa on Asempa fm. In a totally unprovoked effusion she ripped into JM, for nothing other than the fact that he was keeping the environment of his neighbourhood clean. For the avoidance of doubt, the new Military Cemetery is within walking distance of his home and the overgrown grass lining the roadside must have been a constant reminder to him for the action to be taken…
The former President, who had initiated the Sanitation Week programme when he was in power could be seen in a video clip with a modern, efficient and effective implement weeding overgrown weeds and shrubs, in fulfilment of what he started years ago. And even for that modern implement, he was not spared! Why he did not use a crude cutlass was even used against him!!! I do not have expertise in such things, but I am sure he was not mowing. According to a number of names suggested to me, the implement he was using can variously be referred to as a hedge trimmer, a weed whacker or a motorised "langa langa"! Ghanaians and our sense of the burlesque!
This Nana Akua, in the most foul and gutter Twi she could dredge out of her lexicon of bad manners took objection to that and went as far as call the likely next President of the Republic an "attention seeker". You see, in English it sounds benign but not so in the Twi, which is an expression meant to wound.
A retired professor of journalism from Legon once told me that if there is any development we should fear in Ghana's media development, it is the local language television and radio stations. True, Nana Akua of Asempa proved that many times over with her unprovoked Twi verbal attack on JM.
But boy oh boy, is she not getting it back in carpet bombing style?! I have seen some responses, in yes, local languages that have gone beyond boot for boot I appeal to those people to hold their fire! Some have even suggested that Multimedia Group, owners of the station should dismiss her, but knowing JM, I don't think he would approve of that and I agree with him – but perhaps to retrieve their professional standing, which has been dragged into the mud of media infamy, they can advise her to resign…
Multimedia itself has since issued something of a grudging apology stating that she "used words not pleasant to your person". Come on folks! That is not the issue. She has behaved badly and there are more appropriate words to capture that in a sincere apology!
I surrender my concluding words to the following, which appeared on a platform I contribute to:
"Most unacceptable conduct. Why must a whole media house employ a person only on the basis that she can use the Akan language to insult and denigrate other Ghanaians? All the while that the programme was airing and the woman was going on and on against a former President of the Republic of Ghana and Flag Bearer of the NDC, the station management or the producer of the programme should have intervened and or stopped her, if they did not condone her conduct and utterances? The only act of apology acceptable to us is her dismissal from the station. The Multi Media Group has the Agency responsibility for such stupid conduct. We must carry the fight to the offices of the Media Commission as well. Going forward any newscaster who tows that line must face our full repulsion and indignation. Enough is enough!"
Perhaps Nana Aba can give Nana Akua a few tutorials on professional journalism.
By Amb. Alhaji Abdul-Rahman Harruna Attah, MOV