King Aboagye Brenya, The ace actor who has featured in many Ghanaian movies was declared dead on Thursday, September 30, 2021, after a long battle with chronic illness.
According to sources, King Aboagye Brenya died at Kumasi's County Hospital in Abrepo following an emergency hospital visit.
Prior to this terrible tragedy, the 82-year-old Kumawood actor had been noticeably absent from the film industry due to illness that had rendered him bedridden. The reason of death is yet unknown.
King Aboagye Brenya leaves behind a widow and nine children. We pray his spirit find peace.
Meanwhile, some personalities in the movie industry including Kwadwo Nkansah 'Lilwin' have expressed their condolence and well wishes to the bereaved family of King Aboagye Brenya.
Taking to Instagram with emojis that depict pain and sorrow, the popular Ghanaian actor stated "Ooo papa. Rest in peace and God be with you."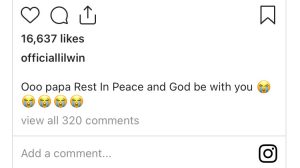 Source: Ghanapubliceye.com/Jennifer Owusu