It is now confirmed that Highlife Maestro Kofi Bee is no more alive. He's joined his ancestors or better still kicked the bucket.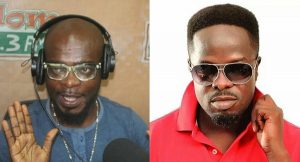 Reports say he died some few minutes at an event he was billed to perform with Kofi Nti another highlife artist. Information your authentic Ghanapubliceye.com has gathered has it that, he was attacked by Cardiac arrest whiles he was still catching a nap before his performance.
Rumours making rounds has it that, Highlife artist Ofori Amponsah is allegedly the caused of the death of Kofi Bee. These allegations are born out of an interview Kofi Bee recently granted with Black Eye on Adom FM. In the interview, Kofi Bee actually recounted what has ensued between himself and his former Producer Ofori Amponsah over a song he sung and Ofori Amponsah produced.
According to Kofi Bee in the video, he categorically stated that, Ofori Amponsah cursed him with death claiming any day he performs a particular song he recorded for him on any of his shows, a vodoo or "bossom" should kill him. He added that, he had worked for Ofori Amponsah for so long but gained nothing. Ofori cheated him and enjoyed his sweat and yet Ofori Amponsah is still envying him.
Fews weeks after this interview, Kofi Bee has been reported dead at a program he was billed to perform. Social media has started warming up and people have started raising accused fingers on Ofori Amponsah for placing curse on Kofi Bee.
Written By: Nana Franca